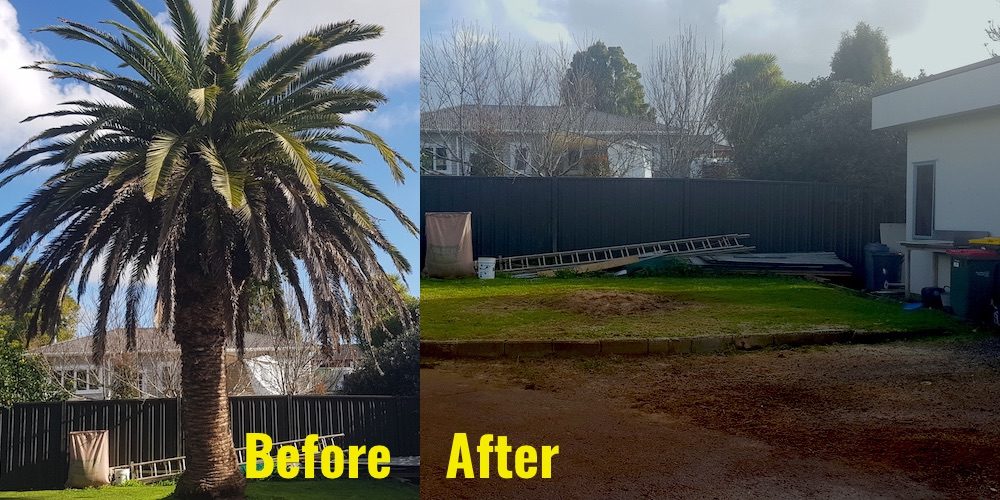 Removing Phoenix Palms
I'm often contacted about removing Phoenix Palms. At one time Phoenix palm trees were very popular but these days many property owners aren't happy with the problems they cause.
Their size is the first problem. A phoenix will grow into a very large tree and, like most large trees, the widely-spread roots can damage paths and fences or, worse, drains and foundations.
And then there are the problems that come with the rats and pigeons who find the crown of the palm makes a very comfortable home!
The dead fronds need to be removed (yes, we can help) because they can fall off in a high wind. And they can be heavy enough to damage cars or garden sheds, when they fall.
But be careful, when you're trimming off the fronds. The sap is highly corrosive to some metals, which will damage your tools.
And be very careful of the spikes at the inner end of the frond. They're highly poisonous and you DON'T want to get one in your hand. In fact, a recent Radio New Zealand story revealed that Phoenix fronds are the cause of half of all hand surgery in New Zealand.
The tree shown here was a problem for a different reason. Our client had subdivided the property and the tree needed to go to make room for new construction. We also did the stump grinding.
We're experienced at removing Phoenix Palms from commercial sites and private homes across Auckland. So if yours is causing you problems, just give me a call.